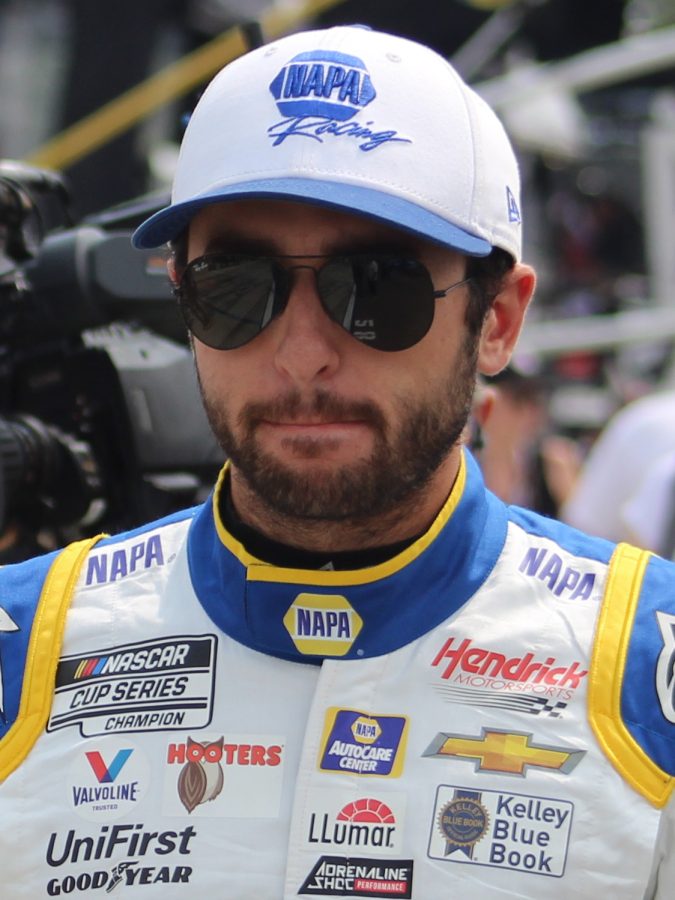 Chase Elliott: NASCAR's Most Popular Driver.
In 2014, NASCAR's Most popular driver claimed the then Nationwide Series Championship. In 2015 this driver would go into a second now Xfinity Series season, and go part time driving the  No. 25 Napa Chevrolet for Hendrick Motorsports in the then NASCAR Sprint Cup Series to replace the retiring Jeff Gordon in 2016. This driver was Chase Elliott, who would start his first race at Martinsville and finished 38th 73 laps down. 
He then finished the race at Richmond in 25th behind Jeff Gordon. Elliott made a best finish of 18th at the Charlotte Motor Speedway, in the Coca-Cola 600. Elliott then tied the 18th at Indianapolis Motor Speedway. At Darlington Motor Speedway, Elliott announced that he was going to race a throwback paint scheme similar to the one his dad drove in his career. Elliott had his first DNF after hitting the wall several times and going behind the wall in 41st. In 2015, Jeff Gordon said that Chase Elliott would drive the No. 24, which he would until 2018.
In 2016, it was Elliott to get pole for the Daytona 500, becoming the youngest in 500 history. He later hit the grass on Lap 40, ending his shot for the 500. Elliott later made the then NASCAR Chase for the Sprint Cup, and made it all the way to the second round where he was eventually eliminated. He finished tenth in the standings. His 2016 stats look like this: 0 wins, 10 top fives, 17 top tens, 358 laps led, 2 poles (first place starter in the race), 2,285 points in 10th, an average finish 14.58 and the rookie of the year award.
In 2017 he took his second consecutive Daytona 500 pole, and was on track to win the 500 if he didn't come up short by running out of gas. He also won his qualifying race for the 500 making that his first exhibition race he has won. He made the playoffs with four playoff points that he had accumulated in the regular season due to the new stage racing policy. He went further into the playoffs making the Round of 8. He failed to make it after contact with Denny Hamlin at Martinsville sent him backwards into the Turn 4 wall. Elliott later returned the favor by putting Hamlin into the wall off of the then frontstretch, now backstretch at Pheonix. Elliott failed to make it in after Matt Kenseth (teammate to Hamlin back in 2017) passed him with ten to go, finishing second. His 2017 stats look like this: 0 wins, 12 top fives, 21 top tens, 4 stage wins,  560 laps led, 1 pole, 2, 377 points in 5th, and an average finish of 11.97.
2018 looked to be a glimmer of hope, as he started racing his No. 9 Chevrolet Camaro in honor of his legacy and his Dad who raced the No. 9 for much of his career. Elliott won his second exhibition race meaning he would start 4th in the Daytona 500. Elliott's results in the first half of the season we're mixed with only 3 DNFs (Did Not Finish) and 4 top fives. Elliott later went on to turn that around as he got two straight top ten finishes and his first win at Watkins Glen racing against 2017 Defending Champion Martin Truex Jr.  Elliott made it into the Playoffs very safe with one win. Elliott later won at Dover, and later at Kansas in the Round of 12. Elliott was then eliminated at Phoenix in the Round of 8, making this the second consecutive season he would not make the Championship 4. His 2018 stats look like this: 3 wins, 11 top fives, 21 top tens, 5 stage wins, 325 laps led, 1 pole,  2,350 points in 6th, an average finish of 12.25, and The Most Popular Driver Award.
2019 was arguably his worst season ever. He might've done very well but comparing his run in the playoffs to the regular season, they're very much different. He accumulated his first win of the season at Talladega after that he went on to get 4 straight top fives. Elliott then received seven finishes of eleventh or worse. He then got his fifth win at Watkins Glen Road Course leading 80 of the 90 laps.  Elliott later made the playoffs and won at the Charlotte Raceway racing on the road course configuration (Charlotte Roval), and had hit the wall in the beginning of Stage 3, and came back to win the race with an injured front end. Elliott was eliminated in the Round of 8 after three consecutive DNFs. Marking the third consecutive season he would not advance into the Championship 4. His 2019 stats look like this: 3 wins, 11 top fives, 15 top tens, 5 stage wins, 601 laps led, 4 poles, 2,275 points in 10th, an average finish of 15.14, and The Most Popular Driver award.
2020 was his best season ever with a consistent four races despite several frustrating finishes. Elliott was on track to win at Darlington Raceway until Kyle Busch accidentally spun Elliott entering Turn One, and later hit the inside wall. Elliott later responded by giving the finger to Kyle Busch. Elliott later won at Charlotte and then received mixed results for the next 10 races after a stupid call by Alan Gufstason (crew cheif) to come into the pits in the Coca-Cola 600. In the first of those ten races he ran into Joey Logano in turn three at Bristol. Logano later held him up at Miami exacting revenge, giving Hamlin the win. Elliott later won at another road course, the Daytona Road Course, after three straight top tens. Elliott later won at the Charlotte Roval again, and won at Martinsville in a must win situation. Elliott finally advanced to the Championship 4. In his first try he won the Championship and won at Phoenix to earn the win. Chase Elliott and father Bill Elliott joined elite company becoming the third father son duo following Lee Petty and Richard Petty (The King), and Ned Jarrett and Dale Jarrett. He also became the second youngest driver to win the Championship following Jeff Gordon. His 2020 stats look like this: 5 wins, 15 top fives, 22 top tens, 10 stage wins, 1,247 laps led, 1 pole, 5,040 points earning Championship Title, an average finish of 11.69, and The Most Popular Driver Award.
2021 was not the best season for the Defending Champion. His 2nd place finish in the Daytona 500 looked to start his campaign for the Championship. Elliott later had the win taken from him after NASCAR called the caution out for rain which he would've won and it was only a light drizzle and openly criticized it over the radio. Elliott later started to click over the season getting a win at COTA (Circuit of the Americas) in Austin TX. He later won at Road America in Elkhart Lake, Wisconsin. Elliott also had his first DNQ at Nashville. Elliott later finished 2nd to teammate Kyle Larson 4 times out of the six wins he received this season. Elliott also received mixed results in the Playoffs, including two run-ins with Kevin Harvick at Bristol and Charlotte. Elliott made a second straight Championship 4 appearance to finish fifth in the race last of the Championship 4. His 2021 stats look like this: 2 wins, 15 top fives, 21 top tens, 6 stage wins, 0 poles, 952 laps led 5, 032 points in 4th, an average finish of 11.36, and The Most Popular Driver Award.
Chase Elliott also raced in Rolex 24, a race that is 24 hours, and after a mechanical failure on the car and raced in multiple dirt races in the offseason.  Elliott has made ventures in the lower series as a part time driver. Elliott also is a road course ringer from Dawsonville Georgia, which is very mountainous. Just like in his father's footsteps he has managed to become the Most Popular Driver, and win a Championship. Overall it his just his personality, as he even made fun of the 2019 Charlotte Roval screw up, making a comeback and a burnout into the wall. You come to a race and likely, you would find him to be cheered over any other driver. Media wise, he probably is the greatest driver all time, great sense of humor, he is willing to do stuff for fans which has made him a loved driver just like his father, and always knows when to keep his mouth shut.