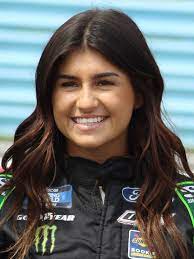 Why Do NASCAR Fans Love Hailie Deegan?
In 2018 Hailie Deegan won her first race in the K&N series at Meridian Speedway in Idaho. That made her the first female ever to win in any series across the NASCAR world.  Deegan's positive interview really made fans love her even more and what made her more loved was the fact that she earned it. Just look at these stats before she got her first win: 4 top fives, and 9 top tens.
Which isn't bad for her considering that Danica Patrick couldn't even get a win in one race considering she drove an Indycar, also getting one win, which is much faster but. Hailie Deegan later started her sophomore season in the K&N series winning two races at the Las Vegas short track, and the Colorado National Speedway, finishing 3rd in the standings with only 7 top fives, and 10 top tens.
She later was assigned to the No. 4 ford for DGR- Crosley. She had a silent season, though, with four Top 5s, and 17 Top 10s. When she was announced to race in the Truck Series, fans questioned that move, considering she only had one race at Kansas and getting a 16th place finish.
Now, it might be the team or her aggression but here are her stats: one Top 10 in a 22-race season. But she was a rookie, and a driver in their sophomore year usually has better seasons. Just look at Chase Elliott, for example, his 2017 resulted in more second place finishes than his 2016 meaning that Hailie Deegan might have more Top 10s and several Top 5s. 
Deegan has an enjoyable personality. She does all this fun stuff to entertain her fans, like race Can ams or race dirt bikes on her youtube channel but she has this chilled out vibe and many fans like that. Despite bad finishes she is still willing to sign her merchandise that someone else has bought, she's not like Kyle Busch, who just comes into the garage area almost killing people, and getting $50,000 fine for it. She interacts with the fans more than others do, she has multiple social media accounts such as Youtube, Instagram, Twitter, Tiktok, and her own driver profile and website. Her merchandise is seen almost everywhere at the track. She literally gives everybody a good laugh, she is willing to do anything for her fans, she once went out and spectated Cup Series practice at the Bristol Dirt track, and played with fans' heads. Deegan is the most popular driver in the Truck Series, and if she gets far enough, not saying it won't, she could rival Elliott for that title. Deegan always likes to talk to young girls and inspire them in the garage, and she's a figure for young and teenage girls to idolize. She got cheers from every video she posted on Youtube about her Tuck series career. Micheal Waltrip has commented on her success and said with every lap she just gets better. She also came from three laps down to finish in 19th on the lead lap at Martinsville, and that is Jeff Gordon style material. She raced against legends and finished 2nd at Knoxville in the SRX series to 3 time NASCAR Cup Series Champion Tony Stewart with Earnie Francis Jr. behind her who races for the Trans Am Series. Not to mention she is the daughter of X-Games Champion Brian Deegan who drives dirt bikes. 
Going forward she looks to be more consistent with competition, and gain more top tens and maybe even a win. She is such an inspiration to young girls and teenage girls alike. Her journey has just yet to begin, and she is in a predominantly male sport. Deegan is the future of NASCAR and is one of the most important drivers ever, and lets just hope her career isn't like Dale Earnhardt Jr. 's where they just don't have the results to make him the Most Popular Driver. 
In the media she has earned an aggressive reputation and she is known as the 'Dirt Princess' due to the fact that she is so good on dirt. She definitely will be the face to compete with Elliott for Most Popular Driver. Why Do NASCAR Fans Love Hailie Deegan? It's becuase of her upbeat perosnality, willing to have a good time even when times are bad.