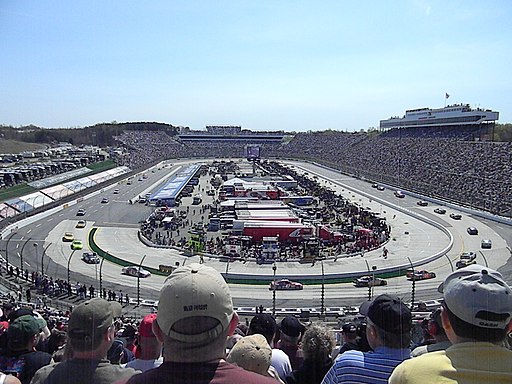 Martinsville Chaos
The chaos at Martinsville started in the Truck Series as several heated moments entered Pit Road. It all started when John Hunter Nemechek, who needed to have a good day, was run off to the bottom line by Austin Wayne Self on the backstretch, which Self was mad about after a run-in on the restart. John Hunter was clipped coming into the Turn 3 nose first; he later called it quits for the day and condemned Self for the way he was racing, saying, "He shouldn't be out here and NASCAR should definitely look at that."
Self later responded in an interview after the race: "I guess bad judgement call on my part but you know at the end of the day I'm racing for the same thing. He could've been a little bit more conservative…"
Opinion: This rivalry is over, and it was just a racing accident, not anything controversial, but both would have waited to abuse they're trucks for the last thirty laps.
٠Another rivalry that started was Parker Kligerman vs. Johnny Sauter. Those two got together twice on Saturday. Kligerman was spun by Sauter, and Parker later returned the favor by making him back into the wall, both finishing the race.
Opinion: This was the 'You hit me, I hit you' situation, these two are even, and they shouldn't continue this feud anymore due to the fact that both of their days were ruined by each other.
٠Todd Gilliand and Stewart Friesen also got together, but it was racing. Stewart took the blame, and was smart to take the blame; He had jumped off the wall after going 3-wide with Gilliand and Zane Smith in Turns 3 and 4, and went right back to wreck Gilliand on accident. Friesen also went spinning in turn one on the final lap.
Opinion: It was just racing, and they should respect each other's space.
٠Matt Crafton and Sheldon Creed got together, and had a discussion about how they were racing each other. Crafton got into Creed, sending him up the race track back to 23rd, and he rallied to 9th, effectively eliminating Creed.
Opinion:  It was just hard racing, but it got a bit dirty. They should respect each other's space at Phoenix.
٠The Xfinity Series also took another turn when Sam Mayer and Ty Gibbs got together. Gibbs brake-checked Mayer off of Turn 2. Mayer rallied back to a Top 10, while Noah Gragson sent Ty Gibbs around giving him a horrible finish.
Opinion: Not even close, it was way too early to start that for Gibbs, if you want to abuse someone's car at least do it at the end of the race. 
٠Harrison Burton expressed some frustration with the No. 52 Spencer Boyd car for staying out on old tires over the radio. That later cost him the win and a shot at the championship as he hit No. 54 after he was spun around. Boyd also was involved in a later crash.
Opinion: Burton had every right to be frustrated, and Boyd's reason was that his season isn't over, so what does he have to lose?
٠The Cup Series had a fair share of run-ins. Austin Dillon ran into the ill handling car of Ryan Blaney. However these two also had another run-in at Kansas last week, when Dillon clipped Blaney into the wall, ending his hopes for a good run and hindering his chance for a championship.
Opinion: Ryan Blaney and Austin Dillon had every right for their actions. Ryan Blaney should retaliate against  Dillon at Phoenix just to remind Dillon that he is the reason why he isn't in the  Championship 4.
٠In the back of the pack it was Quin Houff to show his displeasure towards Josh Bilicki after hewheel-hopped into the corner after contact with Micheal McDowell, accidently clipping Houff. Houff spunBilicki under yellow, resulting in a five lap penalty to the No. 00.
Opinion: Houff should not have done that, and shouldn't have displayed his displeasure during the yellow. Green conditions are always the best way to pay someone back.
٠Ryan Newman was clipped by the No.41, and sent him into Ross Chastain off of Turn 2. Newman hit the wall on the backstretch while Chastain had a right front go in turns three and four. Chastain later retaliated by brushing up against Newman's car under the yellow flag.
Opinion: Chastain assumed the wrong thing, but it definitely isn't his fault and he does have a reason to be frustrated. If he wanted to show his frustration he should've retaliated under green conditions.
٠Up front it was Denny Hamlin and Alex Bowman fighting for the lead. Hamlin felt like he had a lot of room left for Bowman, but Bowman wheel-hopped the corner, accidentally spinning Hamlin out. Bowman later took the 'w' and Hamlin drove on the frontstretch while Bowman started to do donuts, and showed his displeasure against the No. 48 by using his car to fight with the No. 48. Hamlin later cursed on live TV, but Bowman said that he did not mean to wreck him in his interview on the frontstretch
Opinion: Hamlin through a fit over this like Kevin Harvick did with Chase Elliott. It seems like he just goes after younger drivers. He did this in 2017 at Martinsville, wrecking Chase Elliott for the win that he never got, and his teammate did. Bowman said it was just racing, but he still has to limit the mistakes.
٠If it was two guys that hate each other and have a history, look no further than Brad Keselowski and Kyle Busch. Busch and Brad K got together after Turn 4 on the final lap, sending Busch into the wall. Busch  ended up second while Brad K was third. On the cooldown lap, Kyle and Brad got together, ultimately sending Busch around. Busch later said; "He was trying to do a Harvick." Referring back to Bristol when Harvick cut down Elliott's left front tire, which got Elliott frustrated.
Opinion: Just hard racing trying to advance into the championship four. It seems like this rivalry isn't over, but Busch was right that Brad K's aggression was unnecessary. Kyle Busch should also stop cursing on live TV. He's done it numerous times, even at Darlington where he almost ran over spectators, resulting in a $50,000 dollar fine. 
Martinsville is said to test your morals and patience and it did with these drivers and teams. Phoenix should be a piece of cake given that everybody respects each other on the track.