Students Spend Big Bucks on Big Trucks
March 13, 2021
Maybe you've seen them — in the front of the senior section at school or double parked at Cookout. Smokey grey, midnight blue, and cherry red. Giant wheels gleaming, long antennas with tennis balls hanging off the roof. Some lit up with LED underglow or behind the rims. Front end lifted, back end lowered. 
Maybe you've heard them — as they pull up next to you, no catalytic converter, music blaring from PAs. 
Maybe you've wondered — "How can they see the road?" or "Is that legal?"
They are big truck owners, and there are about a dozen of them here at Socastee High School. They put thousands of dollars and many hours into their trucks, all to create an image — on the road and on Instagram. 
Senior Grant Hutchison, who spent $1,300 squatting his black Chevy truck sophomore year said he did it "because it looks good. I think it looks aggressive coming down the road."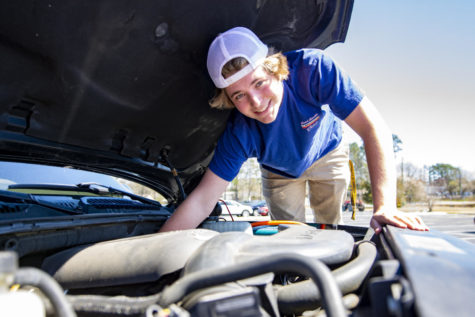 Grant said he learned about squat trucks from his neighbor, who runs Myrtle Beach Truck Week held at the Myrtle Beach Convention Center in the fall.
He was also inspired by what he saw on the road.
"I would see squatted trucks coming down the road and it looked hard."
Grant is a member of a truck group called Stunna Empire, started by local truck celebrity "Trap" who is from North Carolina. 
Trap told Senior and Stunna Alan Lucas, a Stunna member, that he started the club because the other truck clubs weren't accepting people unless they had a huge following on social media.
"Other groups wasn't accepting boys that didn't have clout," Trap said. "It shouldn't be about how many followers you have but how nice your truck is."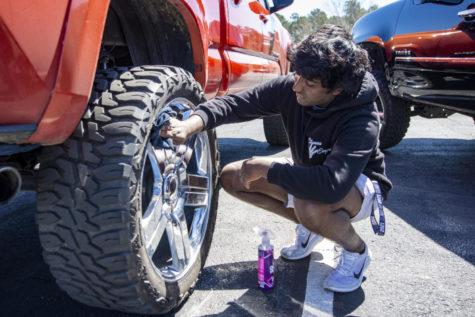 Trap said the purpose of Stunna is to create a "family" of guys who love trucks. They even have sweatshirts and a special hand signal where they hold up four fingers.
"We stick together no matter what," he said.
Senior Cameron Small is not a member of Stunna, but like Grant, he has put a lot of money into his truck, a Chevy Tahoe. He spent $1,400 squatting it junior year. He, too, was inspired by other trucks he saw — both on the road and on Instagram.
"I've always liked the look," he said. "Once I squatted my truck I ended up liking it more!"