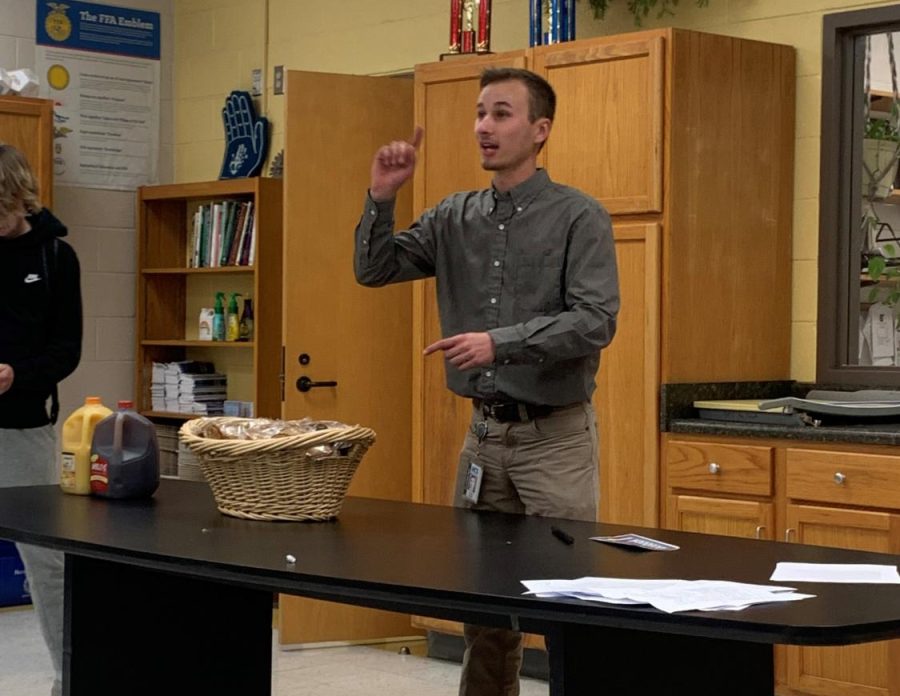 Ag Teacher Mr. Gore Teaches About Farming, Life
Mr. Logan Gore, the new agriculture teacher at Socastee, is known by some students as "the chill teacher."
"I think he is a very good teacher,"  Freshman ag student Logan Robinett said. "He doesn't crack down on most things as much as most teachers would, and I feel like I can have honest talks with him and ask questions more than any other teacher."
Growing up in Green Sea, SC, Mr. Gore began teaching Agriculture Science and Technology and also advising the FFA (Future Farmers of America) Club this semester, replacing Mr. Darrell Ricketts, who retired. He teaches new and aspiring members the qualities that the organization searches for, such as leadership and hard work. 
Mr. Gore's parents were teachers."[Teaching is] pretty much exactly what I expected," he said, "but it's a little bit better because I didn't think I had the love for teaching like I do."
Mr. Gore comes from a long line of farmers and originally wanted to become a farmer like his great-grandparents had been, but he faced challenges trying to do so. 
"When I was going through school (at Clemson University), you couldn't really start a farm because there wasn't that many resources out to be able to afford the farm," Gore says. " I figured the next best thing would be to teach other farmers how to make more."
In the ag class, students learn about plants, tools, and even public speaking. Some activities include maintaining plants in the greenhouse, driving tractors, and reciting the FFA creed. 
"It's a fun class that gives you a whole lot of hands-on experiences, and you learn a lot more about life than ag," Gore says.
Some students who become more committed to the FFA Club even get to go on trips to state and national conventions. State conventions are conventions held to bring all FFA members in one state together and develop their skills in leadership, farming, and other agricultural expertise. National conventions are just like state conventions, except they are held in Indianapolis, IN, and have manymore members in attendance. 
"You have this camaraderie that you just don't get anywhere else when you walk out at the national convention and see 30,000 other blue and gold jackets. It's just amazing," Gore says.
Gore loves the FFA and also teaching at Socastee.
"The teachers seem really supportive," Gore says.